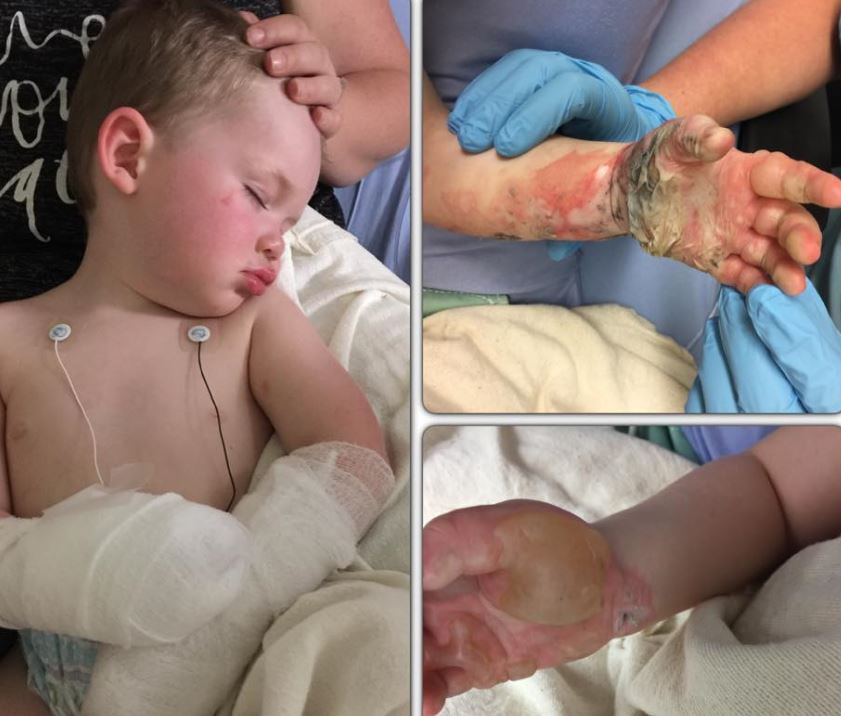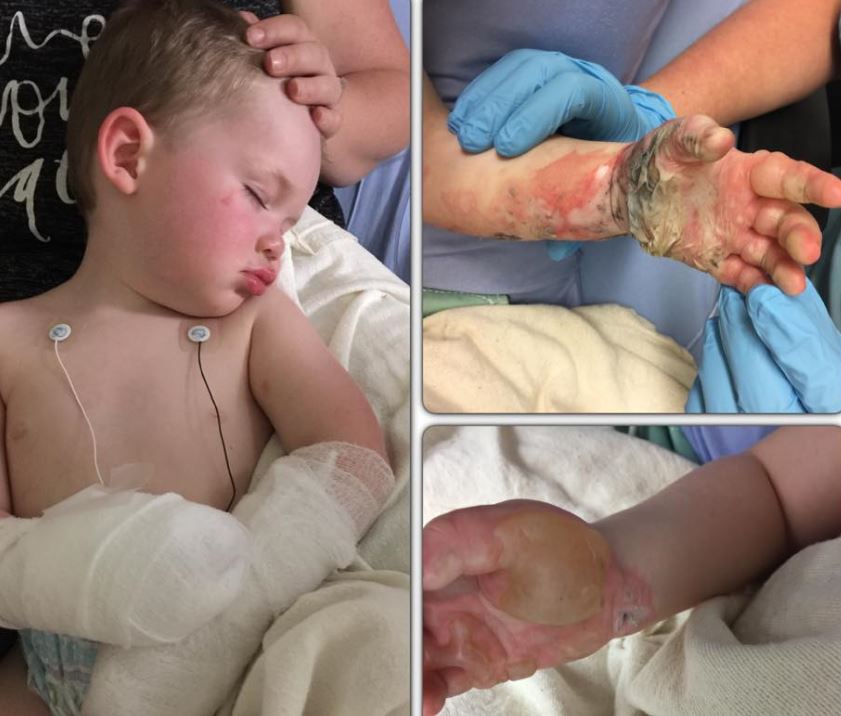 Mum Shares Heartbreaking Warning About The Dangers of Unlit Fire Pits
A mum from Canada has shared an emotional video, warning about the dangers of unlit fire pits and how they can be a hazard hours after use.
Her two year old son, Tristan Cornier, was admitted to Stollery Children's Hospital in Edmonton with second and third degree burns on his hands and arms.
The accident happened on a weekend in May when the family decided to clear the backyard and place the debris into the fire pit. The fire pit was lit and the family enjoyed roasting marshmallows. When the family went inside for the evening, the fire pit was put out with water.
Sixteen hours later, after the pit had been doused out, little Tristan was being watched by his grandfather, pushing one of his trucks, when he tripped and the top half of his body landed in the fire pit. Within 30 seconds of the fall, Tristan was picked up, but he was severely burned.
Shelley Cornier, Tristan's mum, told Global News, "My father was holding my son frantically and all I could see was just ashes everywhere and I instantly as a mom just took him inside and called 911."
Even though the fire pit was not enflamed at the time of Tristan's accident, a "fire can burn up to 24 to 48 hours afterwards, depending on the temperature outside and the type of fire pit you're using" explained Shelley.
The family have been shocked by the accident and Tristan had to have surgery for the burns and skin grafts from his back to replace the damaged skin on his arm and hand. The fire pit has since been removed and replaced with a play structure.
Shelley decided to share her horror as a mother, seeing her baby in pain, to prevent the accident happening to other children.
A Go Fund Me page has been set up to assist with costs to treat the burns.
Tristan is now home from hospital, but will take some time to recover.
"I would never ever, ever, ever want another parent to have to go and witness the pain I've seen my child in, and I would never want a child to experience that pain.
"So just to be really cautious," warns Shelley.
Brian Levesque, a fire prevention officer from Edmonton explained it is a danger many people don't realise when a fire has been extinguished.
"If it looks like it is out but they're not 100 percent sure, the best thing to do is to add more water, give it a really good stir, add more water, stir it again, and add more water. Just to be sure, to make sure it's really well flooded," he told Global News. "You don't want any smoke. You don't want to hear any popping. You don't want to hear any hissing. You don't want to see any steam coming off the wood anymore."
We send prayers and well wishes to little Tristan and his family. With winter on our doorstep, fire pits can be a wonderful way for family to get together and roast some marshmallows, but be wary of the dangers after the pit has been extinguished.