Whooping Cough
Also known as Pertussis, Whooping Cough is a highly contagious and very serious respiratory condition caused by the Bordetella pertussis Bacterium. It's particularly dangerous for small children and is fatal for 1 in 200 babies who are diagnosed with the condition.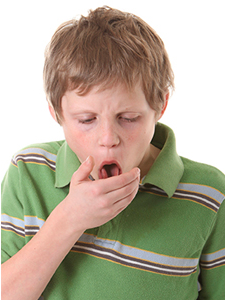 Causes
Whooping Cough is extremely contagious, and an infected person will be contagious for the first three weeks after their cough appears or until they are half way through a 10 day course of antibiotics.  The Bordetella pertussis Bacterium is spread through airborne droplets emitted from coughing or sneezing of an infected person.  After being in contact with a person infected with Whooping Cough, it normally takes between six and 20 days for symptoms to develop.
Immunisation is the best way to prevent Whooping Cough, and it's important to ensure your vaccinations are up to date and arrange a booster if it's been more than 6 years since your last immunisation.  Recent research has shown babies and young children are most commonly infected by adults they are in close contact with.
Symptoms:
Early signs of Whooping Cough are very similar to those of the common cold, however there are several 'telltale' symptoms to keep an eye out for.
A 'whooping' noise when the patient inhales.
Severe episodes of coughing.
Vomiting at the end of a coughing episode.
Young children may have Apnea episodes where they will stop breathing and may turn blue.
Young children under the age of 12 months are most at risk of serious complications associated with Whooping Cough.  Hospitalisation is likely with some of the possible complications of this illness including:
Apnoea
Pneumonia
Haemorrahage
Brain Inflammation
Convulsions
Permanent Brain Damage
Death
A person diagnosed with Whooping Cough may suffer from a cough for several months although they will no longer be infectious.
Diagnosis
If Whooping Cough is suspected, treatment will start immediately as results from blood tests and nasal/throat swabs can take several days.
Treatment
When diagnosed early, antibiotics can reduce the symptoms of Whooping Cough, however they are not a 'cure'.  A course of preventative antibiotics will be offered to family members of a person with a confirmed diagnosis of Whooping Cough.
If you suspect that yourself or a family member may have Whooping Cough, or have been in contact with someone who has been diagnosed, please contact your Doctor immediately.
Disclaimer: The content on this website is not intended to be a substitute for professional medical advice, diagnosis, or treatment. Always seek the advice of your physician or other qualified health provider with any questions you may have regarding a medical condition.
Never disregard professional medical advice or delay in seeking it because of something you have read on this Website.