Meningococcal Disease is serious but rare disease which can affect people of all ages but is more prevalent in children under the age of 5 and young adults aged between 15 – 24.  It presents either in the form of meningitis (inflammation of the protective outer layers of the brain and spinal cord) or septicemia – blood poisoning.
It is thankfully a rare disease, but can have a sudden onset of symptoms, which makes it important to seek medical assistance immediately.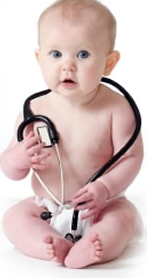 Symptoms in Babies and Toddlers
Sensitivity to light, will turn away from bright lights
Drowsiness and tiredness
A red or purple rash which may look like small pin pricks or large bruises
Nausea and vomiting
Sensitive to being handled, will become grizzly when picked up and held
Floppy body and limbs
Convulsions or twitches
Moaning and whimpering
Refusing to feed
Fever
General irritability
Symptoms in Older Children and Adults
A red or purple rash which may look like small pin pricks or large bruises
Fever
Headache
Difficulty looking at bright lights
Neck stiffness
Nausea and vomiting
Diarrhea
Sore or aching muscles
Confusion and irritability
Collapse or Faint
Difficulty walking
How is it diagnosed?
If Meningococcal Disease is suspected, blood and spinal cord fluid will be collected for testing.  The samples will be grown in a laboratory to determine if/what type of Meningococcal bacteria is present.
What is the treatment?
Early diagnosis and treatment of Meningococcal Disease is vital.  If it's suspected, an antibiotic such as Penicillin will be given immediately to the patient and they will be admitted to hospital. Some patients will require treatment in the intensive care department, depending on how severe their infection is.
Can I protect myself and my family?
The Meningococcal Bacteria doesn't survive outside the human body for more than a few seconds.  If you have been in very close contact with someone who has been diagnosed with Meningococcal Disease (e.g a partner or child) you will generally be treated with a course of preventative antibiotics.
In 2003 an immunisation against C was introduced under the National Immunisation Program and is suitable for babies from 6 weeks of age.
Complications
Whilst early intervention ensures the majority of patients fully recover from Meningococcal Disease, it's fatal in around 10% of cases and 25% of those patients who do recover, will continue to experience some symptoms for many months or years after the infection has resolved.
If you suspect that yourself, a family member or a friend may have symptoms of Meningococcal Disease, please seek medical treatment immediately.
Disclaimer: The content on this website is not intended to be a substitute for professional medical advice, diagnosis, or treatment. Always seek the advice of your physician or other qualified health provider with any questions you may have regarding a medical condition. Never disregard professional medical advice or delay in seeking it because of something you have read on this Website.