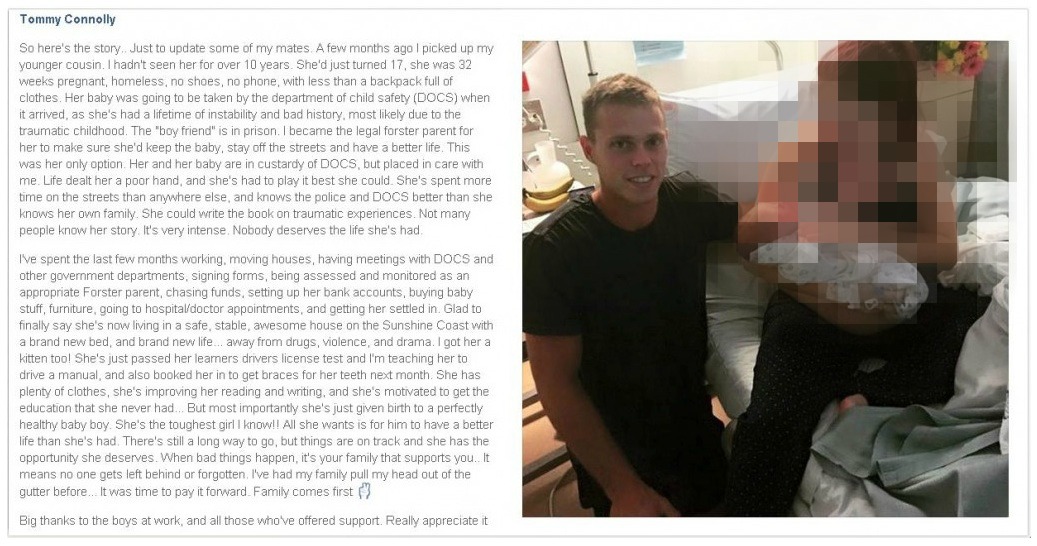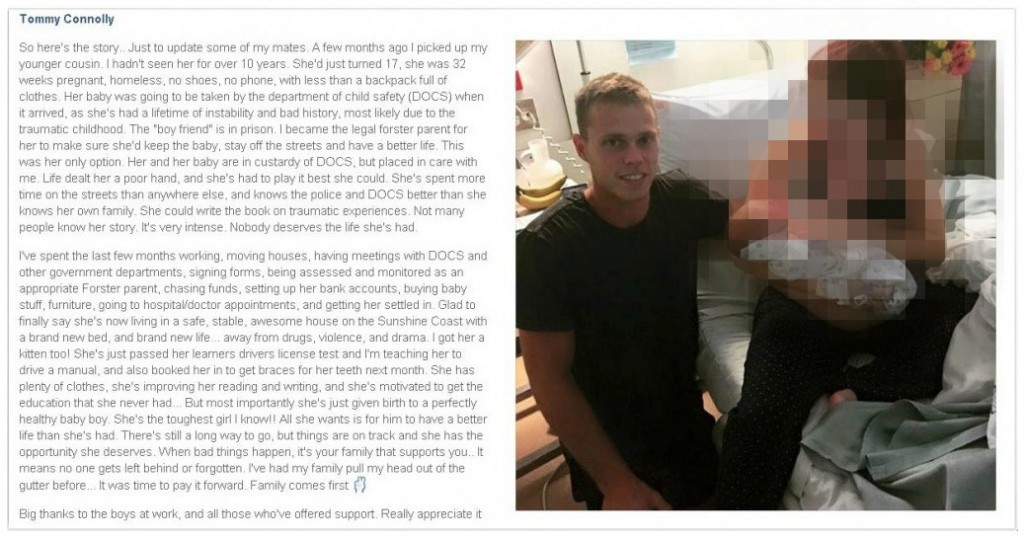 Story by Dana Flannery.
Just turned 17, abandoned by her parents, living hand to mouth without even a pair of shoes to her name. Sarah (not her real name) was living on the streets and 32 weeks pregnant. The baby's father was in prison and the Queensland Department of Child Services was ready to take her baby.   She reached out to her estranged older cousin Tommy Connolly. It had been 10 years since they'd last seen each other but he was the only family she could turn to. They were relative strangers, but what he did next is both inspirational and heroic.
Tommy Connolly, a twenty something athlete from the Sunshine Coast didn't just turn his back on his baby cousin, and her unborn child. He turned his own life upside down for them.
"She's spent more time on the streets than anywhere else. She knows DOCS and the police better than she knows her own family. Not many people know her story; it's very intense, nobody deserves the life she's had."
He spent the next few months dealing with DOCS and other government departments, having his life scrutinised and jumping through hoops so that he could be declared her foster parent. He then set up a whole life for his little cousin – getting her a bank account, a doctor, furniture, baby items and moving to a place she could call home.
"She's now living in a safe, stable, awesome house on the Sunshine Coast, away from drugs, violence and drama" he stated on his Facebook page.
He is even teaching her to drive and giving her literacy lessons as she's had little formal schooling.
"She's the toughest girl I know and all she wants is for her baby boy to have a better life than she's had" he said.


Sarah said "I am the luckiest girl in the world, since carrying this gorgeous boy, all of my friends kept telling me that he would be taken away from me. This made my pregnancy very difficult. All I wanted was to give this little man a better life than I had – a second chance was all I wanted. Thank-you, Tommy for everything, and for helping me with my spelling." she said on Facebook.
Baby 'K' was born safely in mid-March and continues to live with his mum and second cousin Tommy. See more of their journey together via his Facebook page
 You can show your support by visiting Go Fund Me and making a donation.