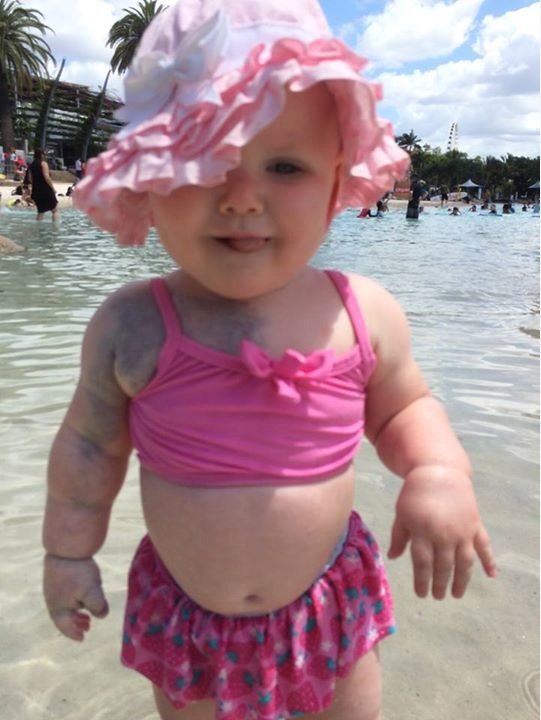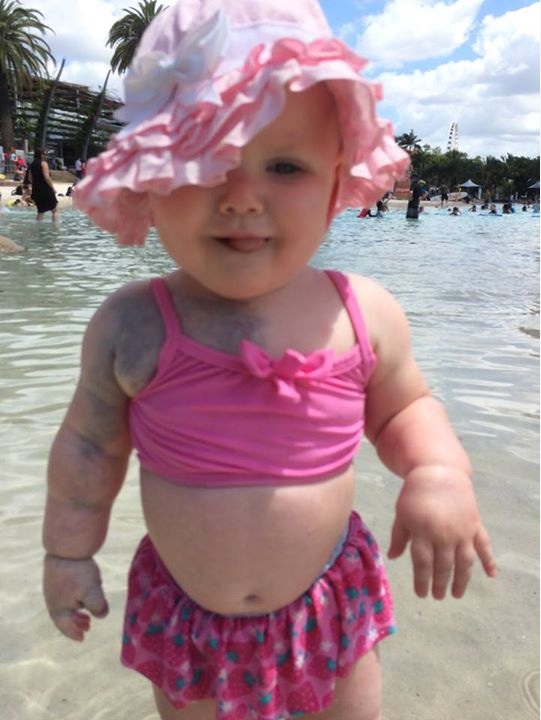 Can you imagine gong out with your family to enjoy the sunshine and a swim, only to have to endure strangers pointing and/or staring at your child.
It was this, that spurred one Mum to share this image of her daughter on Facebook – an image that to date has been shared 379,538 times on Facebook.
Little Marley suffers from Klippel Trenaunay Syndrome, a condition that affects 1 in 100,000 people worldwide.
As mum Simone explains in her Facebook post:
KTS is a condition which effects the development of blood vessels, soft tissue and bones in one limb, most often a leg.  the condition is characterised by a large birth mark known as a port wine stain, abnormal over growth of soft tissue and bones and vein malformations.

This is why Marley's arm is twice the size and the blue parts are veins.  The condition will affect her for her whole life and can cause her arm and hand to swell painfully,  She wears a compression garment to help control the swelling.

It would be nice one day for people to see Marley and know that she has KTS rather than stare at her not knowing or understanding.
Mum Simone was prompted to share the image in an attempt to raise awareness of her daughter's condition after a day out at Southbank last October.
After a nice family outing at Southbank yesterday we noticed people starring and whispering about her. It's made me realise that that hardly anyone has heard of the condition called KTS (Klippel-Trenaunay syndrome) which affects 1 in 100,000 people world wide. So rather then get upset about people starring at her and wondering, why not take the opportunity to raise some awareness.

If you've taken the time to read this we thank you. Even better please share my post with your friends to help raise awareness of KTS.