Talented Photographer Creates Amazing Whimsical Portraits for Babies With Special Needs
Angela Forker is a baby photographer who takes all the usual shots that are popular with families everywhere — maternity photoshoots featuring glowing baby bumps, serene newborns swaddled up in cosy poses and delightfully adorable cake smashes on baby's first birthday. These standard photoshoots pay the bills and keep her business running as is the case for any photographer.
But Angela does something else that makes her all the more wonderful — she creates elaborate whimsical portraits for special needs babies and photographs them at no charge to their parents.
Earlier this year Angela decided to really make a difference to the special needs parents in her community after a family in her church lost their 15-day-old baby due to a complex medical condition, and she wanted to dedicate the project to her memory. She explains: "In February, the idea for the Precious Baby Project was dropped into my heart."
"These precious babies and I are on a mission to change how the world sees babies with special needs. We are raising awareness while spreading hope and joy."
The talented photographer says that each scene takes her about 20 hours to create after she and the baby's parents come up with a backdrop inspired by the family and child's interests. Angela also researches ways to incorporate the child's condition or medical accessories and equipment into the photo. Wires, cords, ports, and protective gear all find their way into these magical moments.
Because the creation for each session so much time to complete, Forker says she averages about one or two photoshoots per month.
Angela has photographed many special needs babies, sharing their stories on her Facebook page. Some of their stories are truly heartbreaking, while others are inspiring and full of joy. We felt it was important to not just see the pretty pictures, but understand what life looks like for each child when they aren't pretending to be astronauts and fairies. As such, we have included Angela's words with each picture.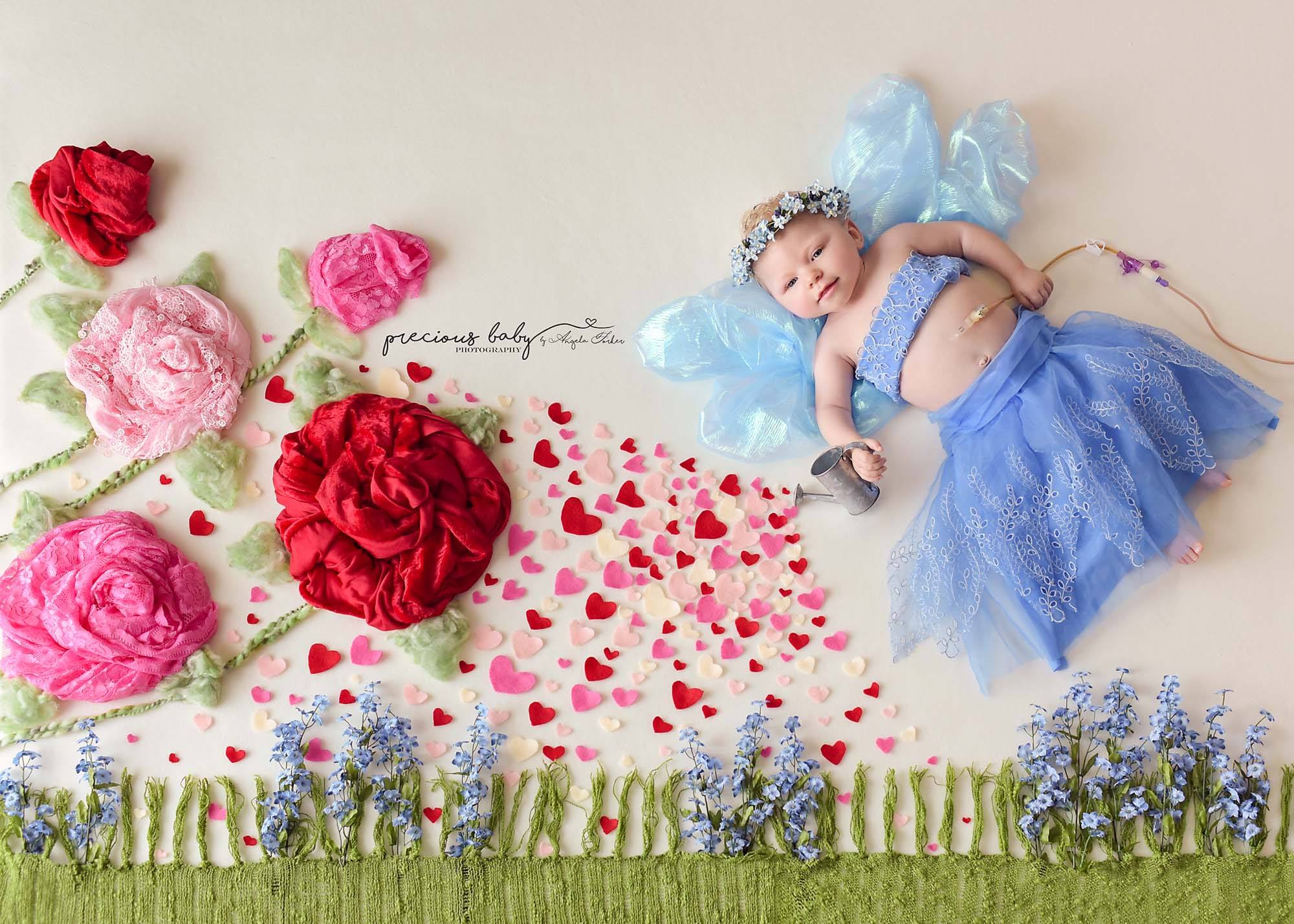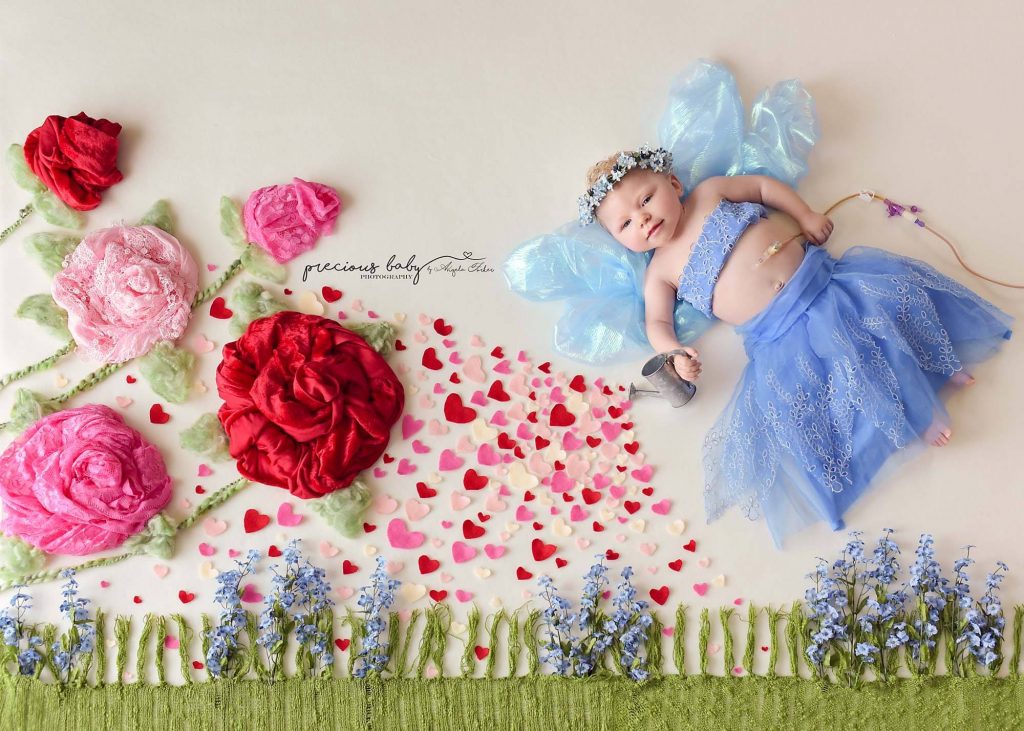 "Forget-Me-Not Fairy"
This session from the Precious Baby Project has had me crying more than any other session. Her parents wrote to me saying that their baby likely only has another 6-12 months to live, so I wanted to create a spectacular scene that she could be remembered by.
Here is what Mum and Dad have to say about her: "Ellis has severe HIE, a brain condition resulting from lack of oxygen when she was born. She is also blind and has epilepsy and cerebral palsy. She came into our lives suddenly – we received a call from our social worker that a beautiful baby girl was waiting for us to come pick her up within the next 48 hours. We did not know the extent of her special needs when we first brought her home, only that she needed a family to love her unconditionally. Ellis likely will only be with us for a short while, but she is one of the best blessings we've ever received. She teaches us and our other two children the true meaning of hope, joy, and love every day."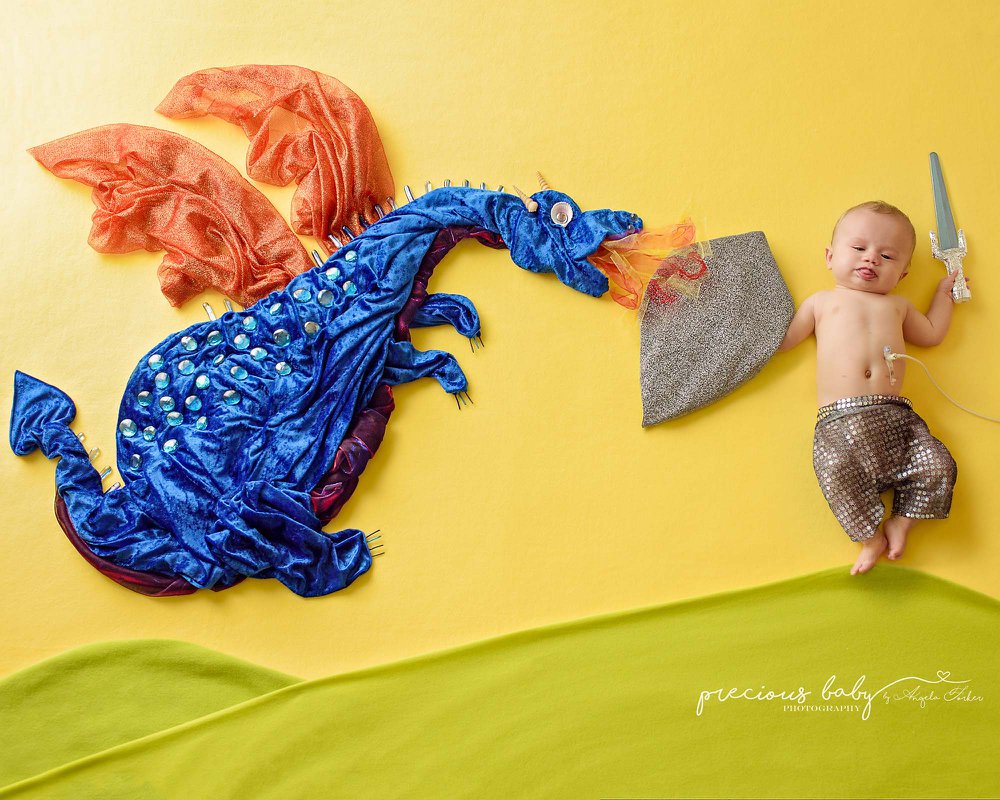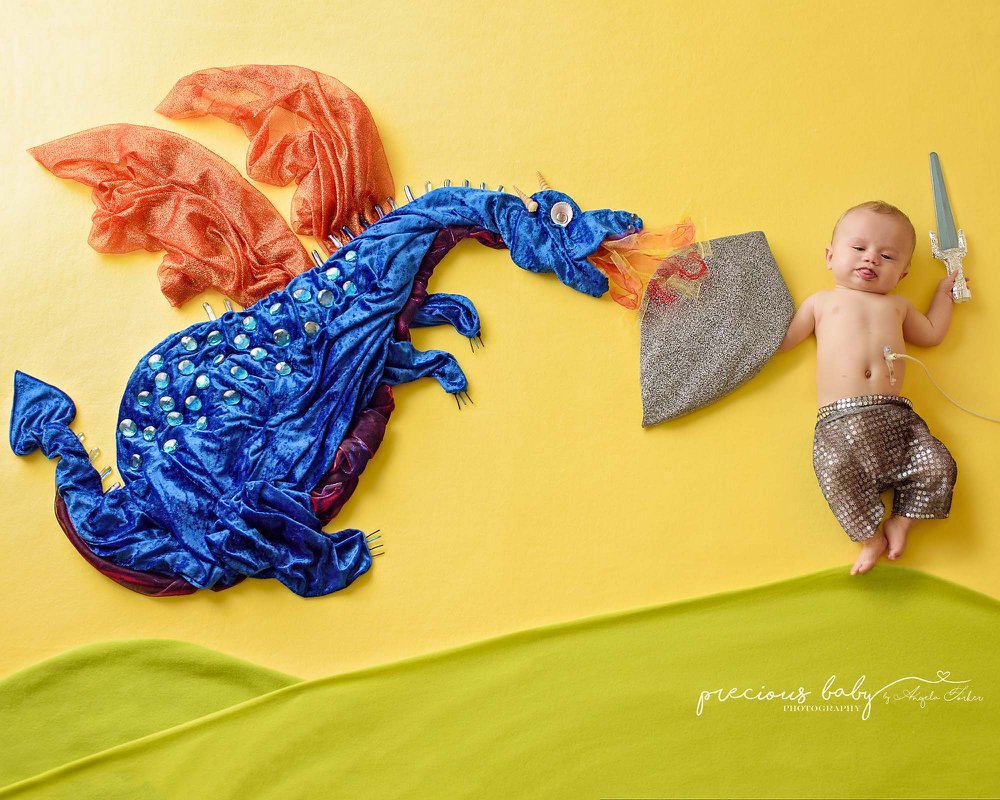 "A Little Fighter"
This family is no exception to the amazing families I have been working with for this project. This is what they have to say about their little fighter…"Maddox was diagnosed with severe laryngomalacia at 10 days old. This means that his throat is weak making breathing very difficult and he is unable to eat by mouth. He has had 3 surgeries and 22 days of hospital stays. Because of all his challenges he has faced so far he requires multiple therapies each week and has a large team of doctors. Our hope for him is that he will be able to eat food orally and play as many sports as his heart desires."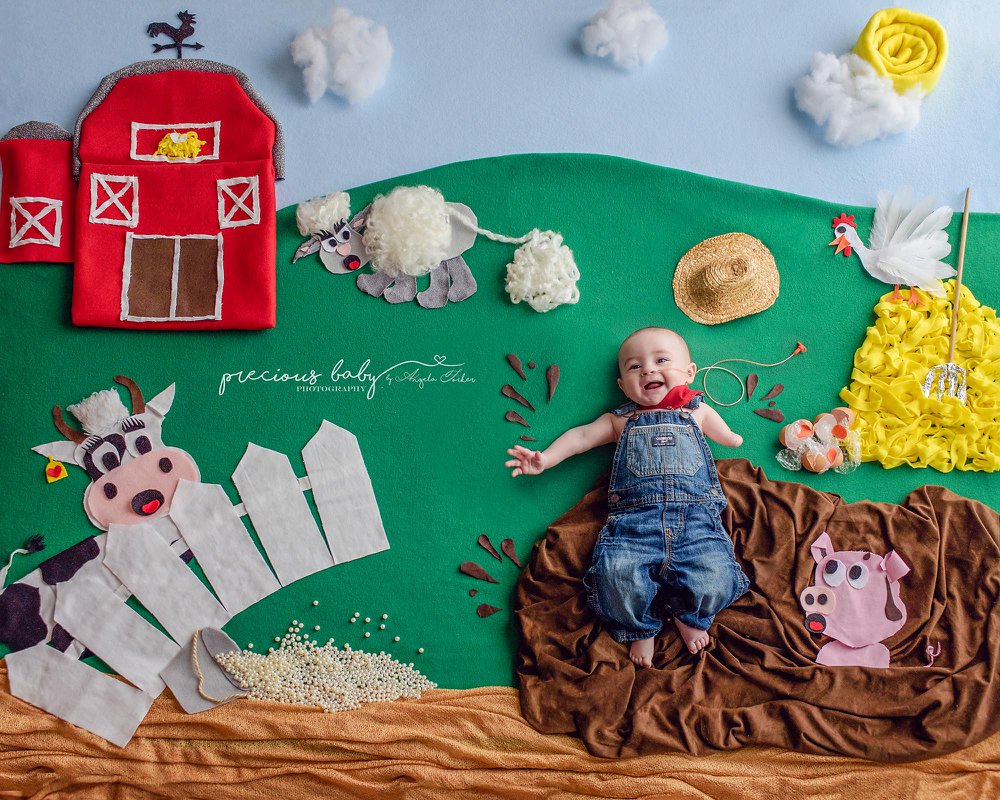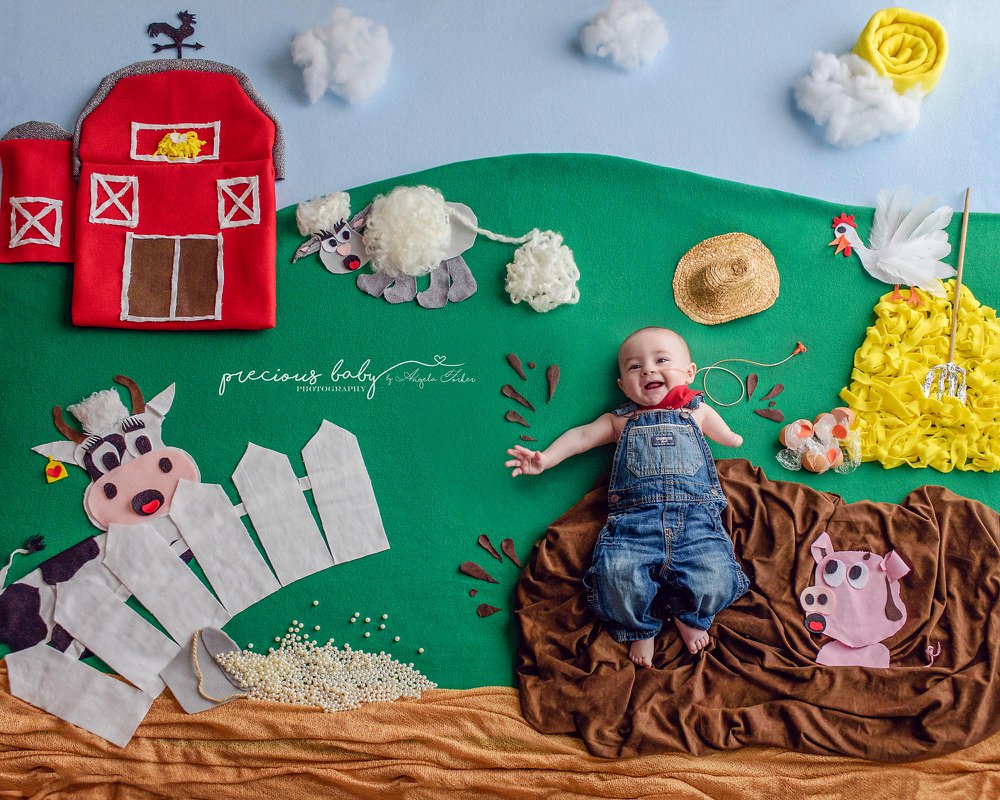 "The little farmer"
Here is what his Mum has to say about him: "Tuck Irving developed a blood clot in utero and as a result had his arm amputated when he was just one week old. He has developed an aversion to bottles, associating them with the trauma of his recovery. Thanks to the help of an NG tube Tuck is thriving and growing in leaps and bounds!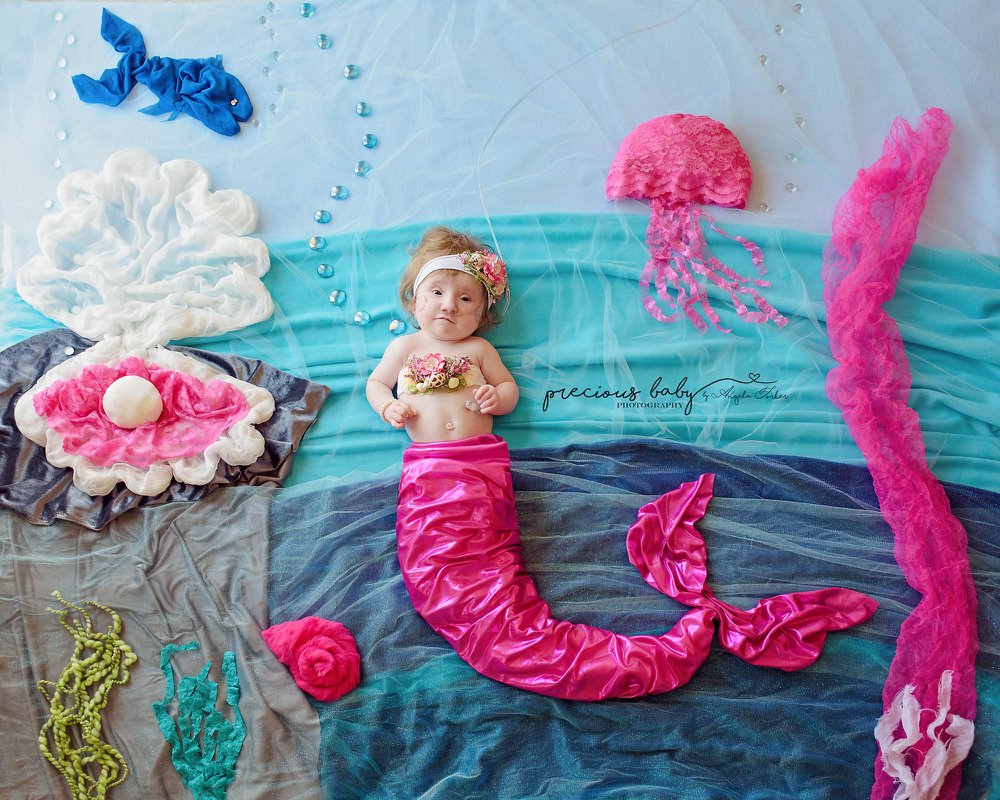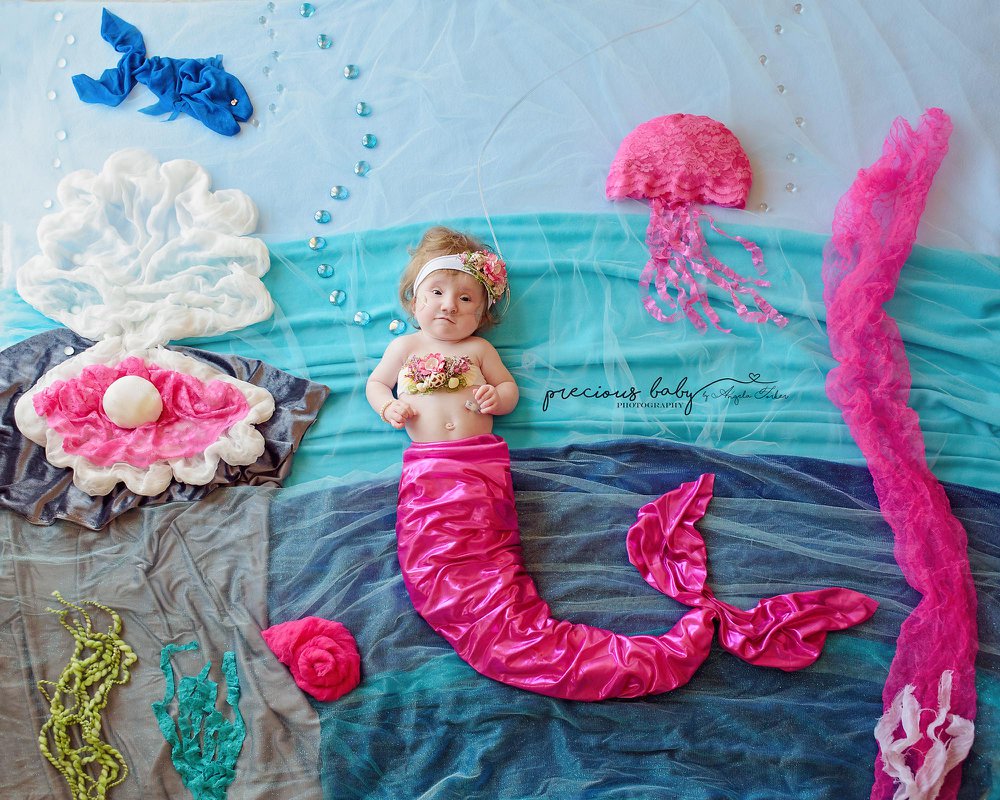 "The pretty mermaid"
"Ivy has a rare form of Trisomy 9, called Trisomy 9 Mosaic. Only some of her 9th chromosomes are duplicated versus all of them, which makes her condition not as severe. However, she does [have] a handful of birth defects/complications from it. She has a floppy airway and laryngomalacia, which require 24/7 oxygen and only Gtube feedings. She has infantile spasms-which is a form of epilepsy, hip dysplasia with severely bilateral dislocated hips, a cyst in her brain and vision complications. She is globally delayed yet she is smiling, squealing, kicking, rolling and improving everyday! She is an absolute blessing and we are thankful God gave her to us!"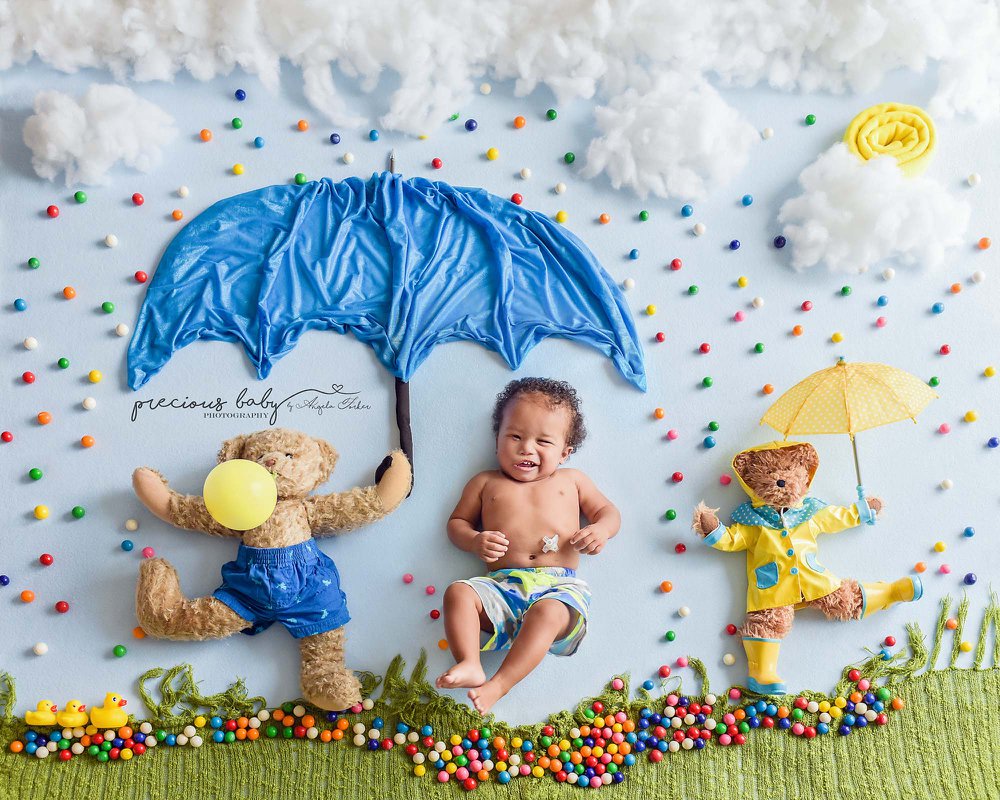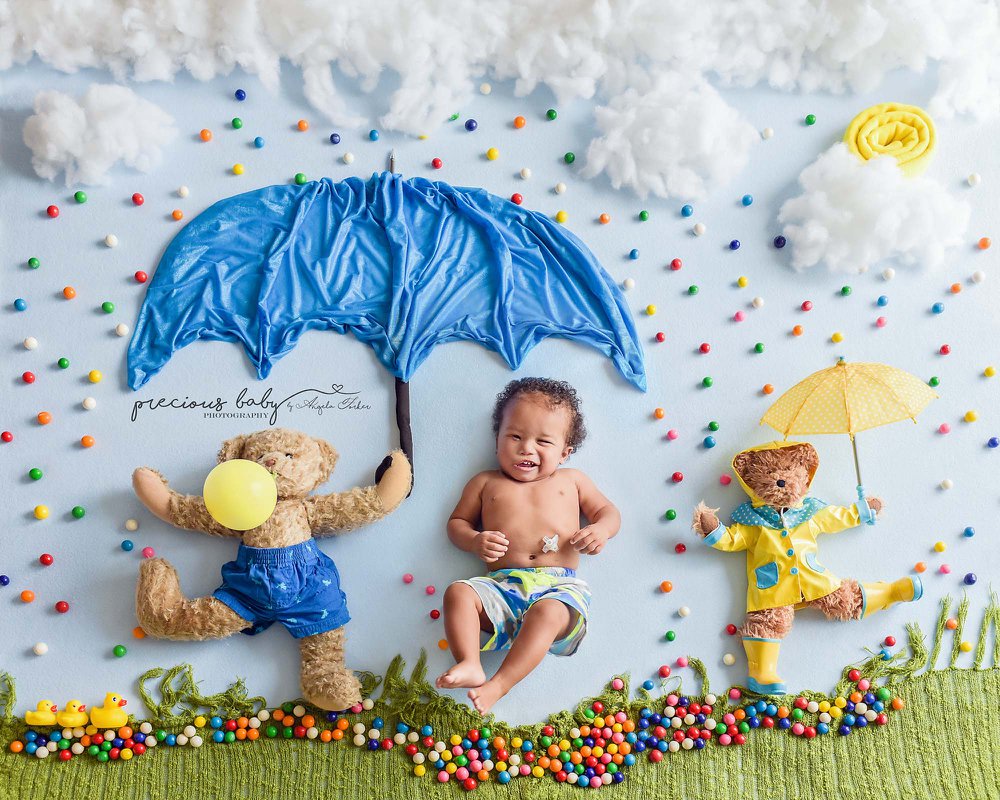 "Dance in the Rain"
Sometimes life brings pain. Look for the moments to dance in the rain. That's what this sweet baby and his family are doing!
Here's what his Mama has to say about his condition…"My wonderful baby boy was born with loss of hearing in both his ears and with 7th nerve facial paralysis on the right side of his face which made it difficult for him to eat from the bottle. He couldn't gain weight so we had to put him on a G-Tube which later had to switch to a GJ-Tube and is on a feeding pump for 22 hours a day. His vision isn't the best right now because he has 6 corneal ulcers total in both of his eyes. After everything he has been through I've never seen a baby more happy like him. He's always smiling and laughing through his pain!"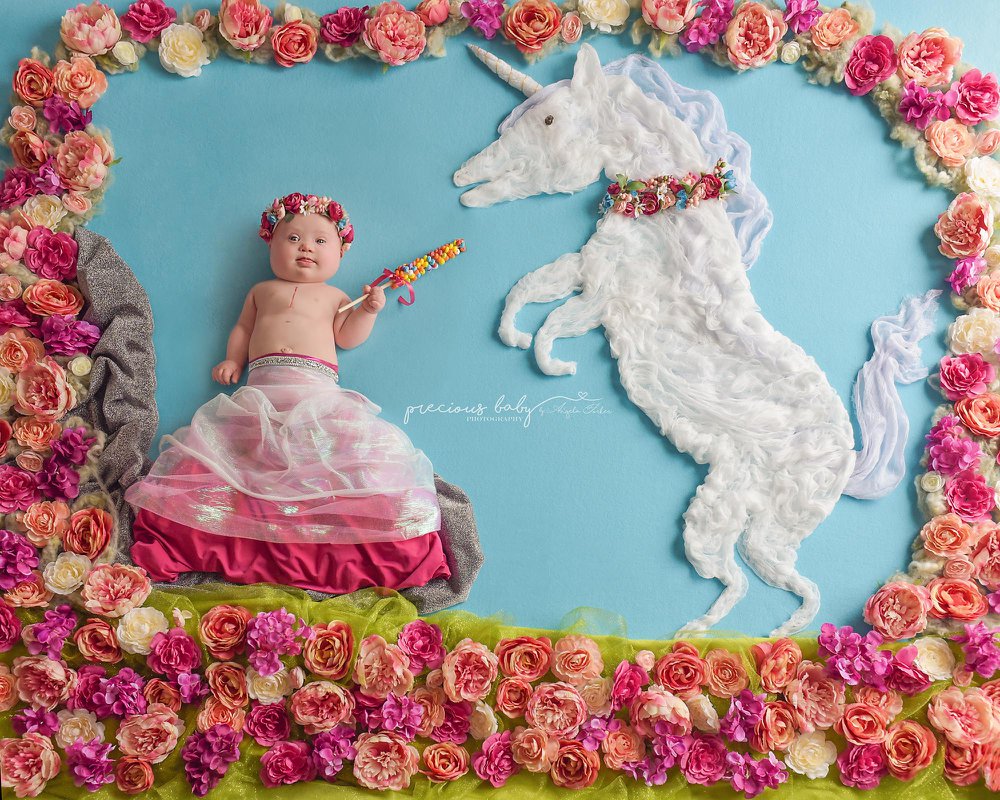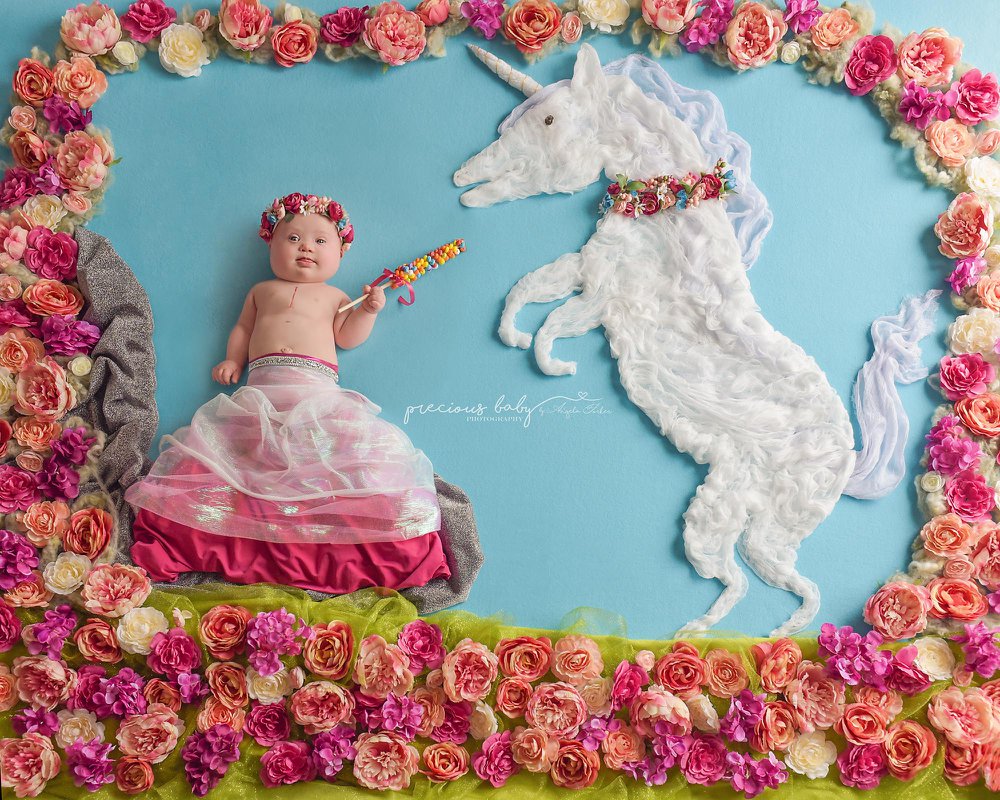 "Magical Moments"
Here is what this baby girl's parents have to say about her…"Our sweet Josie was born on 01/02/18. To our surprise, Josie was diagnosed with Down Syndrome and a complete AV canal and pulmonary artery stenosis shortly after birth. We spent a month in the NICU at parkview and were sent home awaiting her Open heart surgery. On May 4th she had the surgery to repair her heart and save her life. Her recovery has been nothing short of miraculous and she is now thriving. In her five short months she has taught our entire family how precious life is and how lucky we are to have her as a part of our family. Although there will be challenges to face her future is filled with hope and possibilities."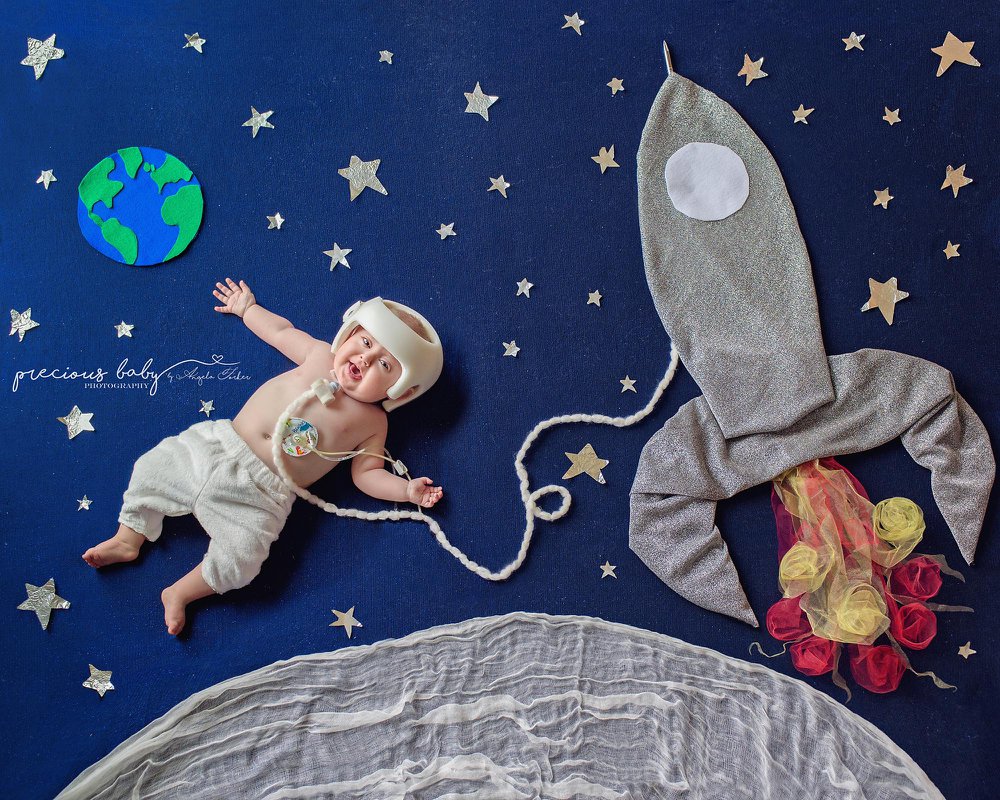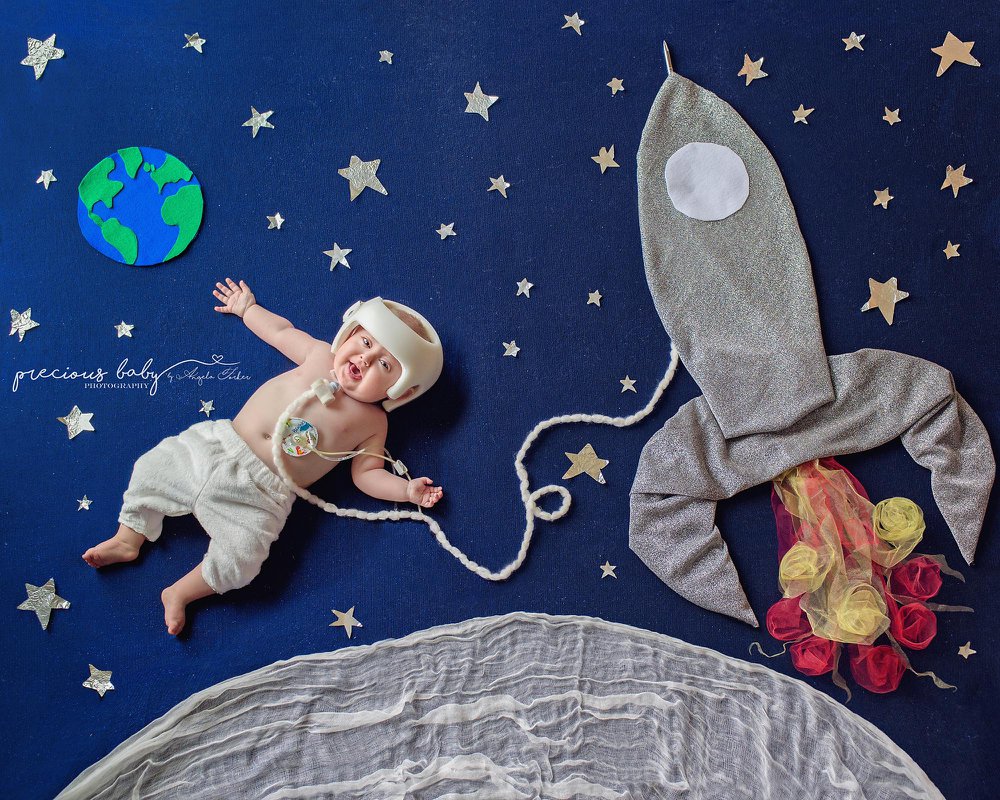 The sky's the limit!
This is what his family has to say about him…"Elijah was diagnosed with Crouzon Syndrome at birth. It's a craniofacial disorder very similar to Auggie Pullman from the book/movie "Wonder". The most important thing to remember about a child with medical conditions is they're not defined by a diagnosis. They are so much more than that, and have a lot to offer. They are beautiful, strong, loving, kind, caring, sweet, courageous, but most importantly…they are perfect."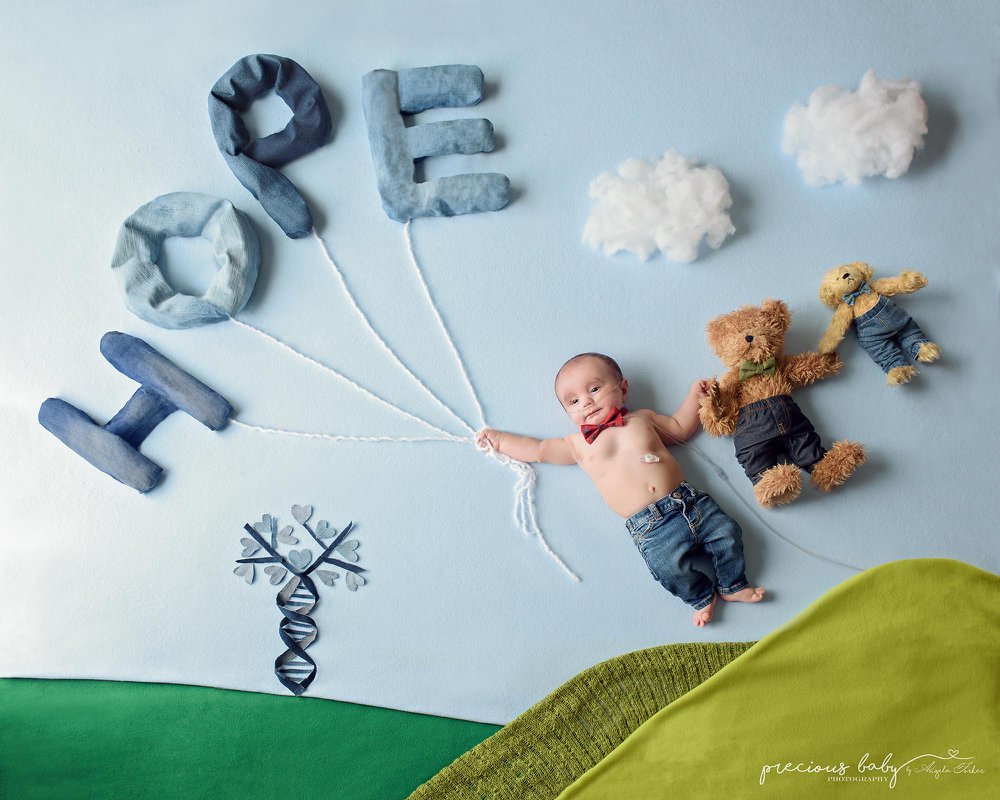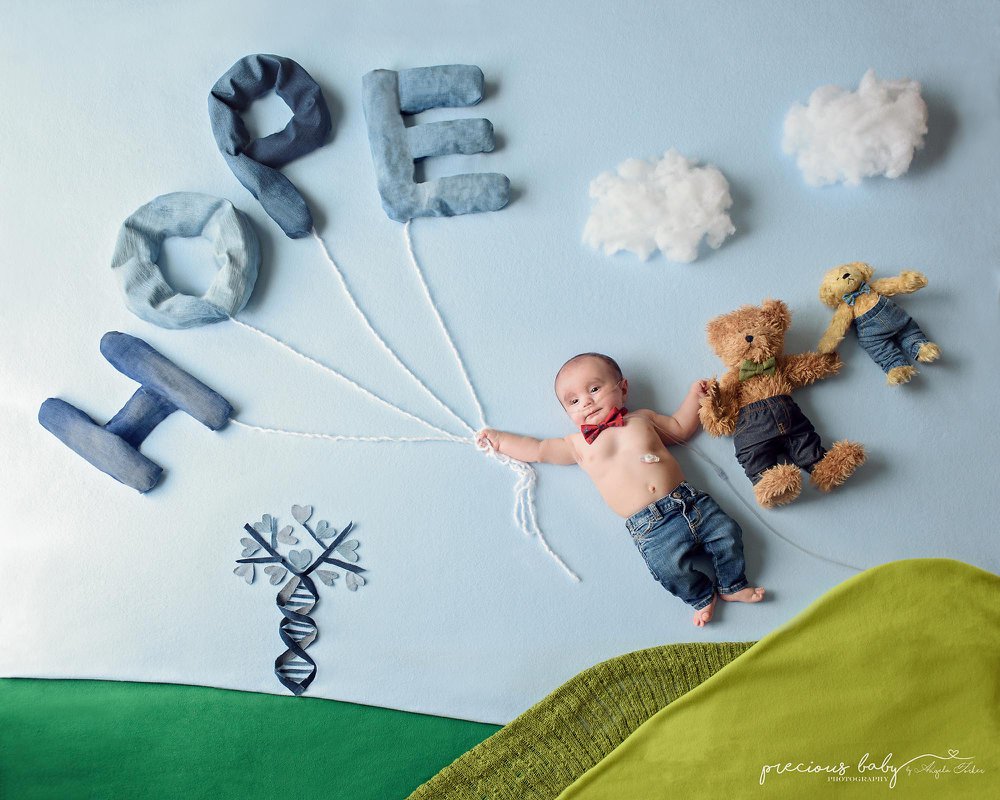 "Hope is in our Genes"

This is what his parents said about his condition…"Greyson was diagnosed with trisomy 18 also known as Edwards syndrome at just 4 days old. Greyson does not eat orally and he cannot do things that most babies at his age can do. We were told that we probably wouldn't leave the nicu with a baby. He has proved these doctors WRONG, and he's almost 6 months old! He is thriving and getting stronger everyday! I do believe God gave us this precious little boy for a reason, and I'm so glad he did." 
Source: Facebook/Precious Baby: Newborn Photography by Angela Forker