As a new parent, one of the first decisions you need to make is whether you will use Cloth or Disposable Nappies.   Disposable Nappies have a reputation as being a convenient and practical option, while Cloth Nappies have come a long way since the toweling nappies many of us remember from our childhood.   To help you make the decision which best suits your families needs, we've put together a list of some of the pros and cons of both to help you make this important decision.
Cloth Nappies
Pros:
Cost: Cloth nappies are generally a less expensive option when compared to disposable nappies – although do be mindful you will generally need around a two day supply (approximately 24) to begin with.
Versatile: Depending on the type of Cloth Nappy you choose, many can be used from birth up until your child is toilet trained.
Re-useable: Cloth nappies can be used for multiple children which can be a significant financial saving.
Environmental impact: While there is still an environmental impact when manufacturing cloth nappies, this pales in comparison to the ongoing impact of disposable nappies being sent to landfill.
Cons
Cost: There are still ongoing costs involved with maintaining cloth nappies. Depending on the type of washing machine you own, if you use a clothes dryer, the laundry detergent you use and even the decision to wash your cloth nappies in cold or hot water will all impact on your ongoing costs. For example, the cost involved to wash a full set of cloth/re-useable nappies in cool water and drying on the line is approximately half the cost of a box of disposable nappies.
Convenience: While you may have the best intentions at the beginning, you may soon discover the reality of having a bucket of soiled nappies sitting in your laundry that require regular washing may not be for you.  Some parents choose to use a nappy washing service as a way to get around this concern, but it's important to be aware this will add to the ongoing costs of using cloth nappies both financially and environmentally.
Absorbency: Cloth Nappies are generally less absorbent than many disposable nappies and you will need to change them more often.  Some parents choose to use cloth nappies during the day and then use a high absorbency disposable nappy overnight to avoid overnight nappy changes, ensuring everyone gets a good night sleep.
Disposable Nappies
Pros
Convenience: as these nappies are only for single use, once they are soiled you can simply dispose of them in the bin.
Absorbency: many brands of disposable nappies have a greater absorbency when compared to cloth nappies, which can mean less changes are required.
Easy to use: there is no need to insert liners or fiddle with buttons, velcro or pins when putting a disposable nappy on your child.
Availability: Disposable nappies are readily available in stores and many parents rooms now have vending machines where you can purchase a nappy from if you are caught out.
Cons
Costs: depending on the brand you use, the cost of disposable nappies can quickly add up, especially if you have more than one child wearing them.
Environmental impact: Disposable nappies have a significant impact on the environment, not only due to the huge amount disposed in landfills, but also during their manufacture and distribution.
Nappy Rash: due to the sensitivity of baby's skin, disposable nappies may cause rashes and irritation for some children.  In many cases simply switching brands or using a barrier cream can resolve this issue.
The most important factor to consider when making the decision to use cloth versus disposable nappies is thinking about what is going to work best for you and your family.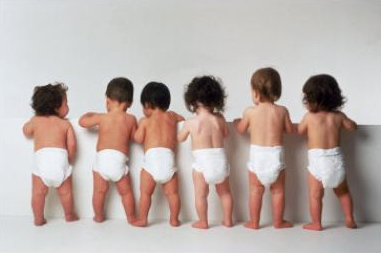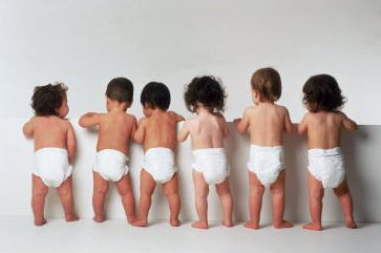 What kind of nappies did you use?