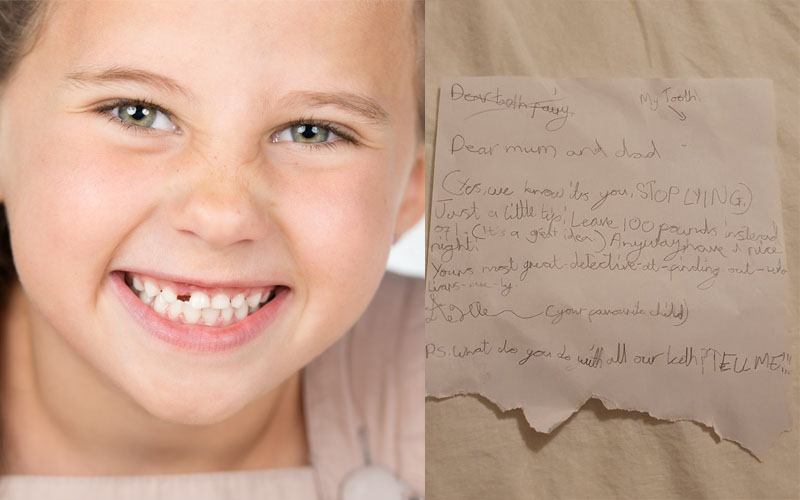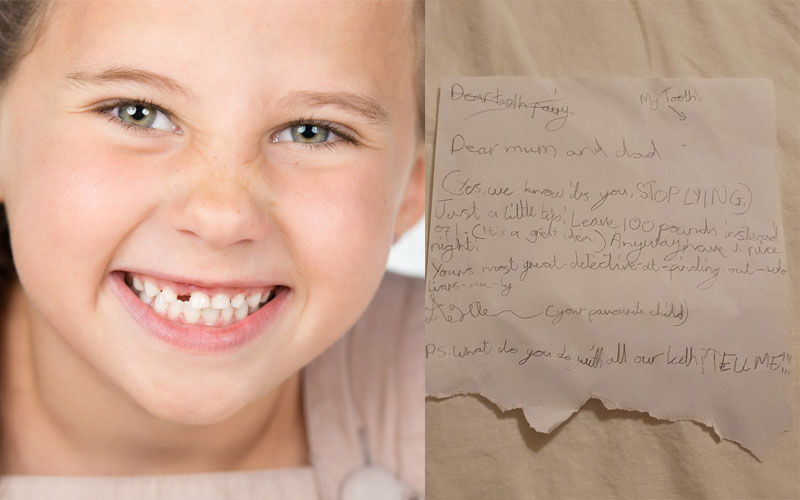 Little Girl Asks For £100 Instead Of £1 After Discovering The Truth About The Tooth Fairy
A nine-year-old girl has finally discovered the truth about the tooth fairy. She reacted by deciding that she might as well benefit financially from this new-found knowledge, penning a letter to her parents with demands to pay up big time!
Sam Freedman's daughter lost another tooth, so, doing what every parent does, the London dad tried to put the going rate of £1 under her pillow.
But when he went to make the transaction, he realised there was a letter under there too. It turned out that his daughter is so much more intelligent than anyone gave her credit for!
Sam shared her delightfully hilarious letter with his Twitter followers, reminding us all how quietly conniving our children can be at times. "I think my eldest daughter may have figured out the whole tooth fairy thing," he wrote.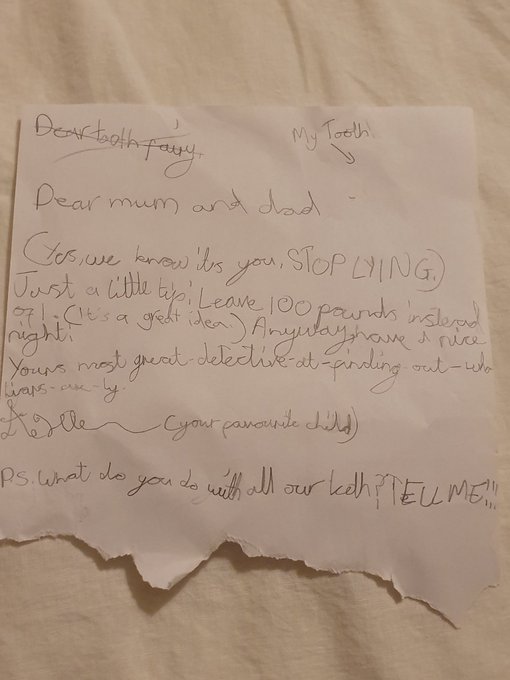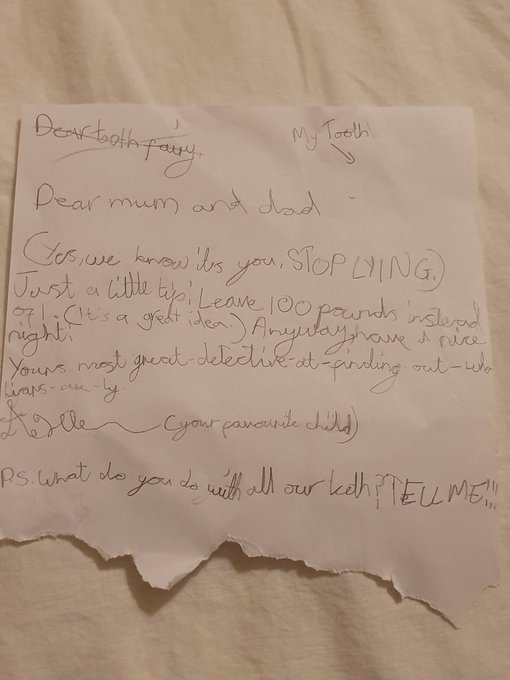 Dear tooth fairy,
Dear mum and dad,
(Yes, we know it's you, STOP LYING.)
Just a little tip! Leave 100 pounds instead of 1. (It's a great idea) Anyway, have a nice night!
Yours most great-detective-at-finding-out-who-liars-are-ly,
-signature- (your favourite child)
PS. What do you do with all our teeth? TELL ME!!!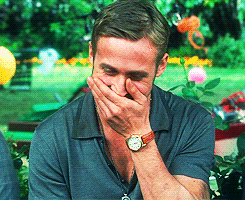 Sam has since confirmed he just throws the teeth away and doesn't have a stash of children's teeth anywhere.
His post did very well, garnering thousands of likes and comments praising his smart daughter and sharing their own experiences with the tooth fairy.
I love her style, I was a little bit sad when mine cottoned on and then tried to stiff me for a fiver for her last tooth!

— Michelle Burlinson (@michelleburl) September 21, 2019
I love how she confidently thinks she'd still be 'your favourite child' after calling you a liar more than once!

— Kit Marsden (@manek43509) September 20, 2019
My youngest confessed she knew the day after she lost the last tooth. Made sure she cashed in on all of them!! 🦷

— A/Prof Samantha Pugh (@SamLP) September 20, 2019
LOVE THE LAST LINE 💕💕💕💕

— Andy Buck (@Andy__Buck) September 19, 2019
The letter is certainly something to keep forever, seriously, what a gem!
I think my eldest daughter may have figured out the whole tooth fairy thing… pic.twitter.com/p8oL39UYsQ

— Sam Freedman (@Samfr) September 19, 2019