I found from the time my babies turned 6 months, they were ready to sit on the floor and play. Every mum will find their child is different so don't panic if your baby can't quite sit up straight as soon as they hit 6 months. I found this age fun and exciting as all my babies were ready to explore and discover new things. The only problem with the first year of your babies life is you usually don't have a lot of toys at your beck and call because they've yet to have their 1st Birthday. So instead of spending fortune at the shops, here are some play activities for babies aged 6 to 12 months that you can create yourself.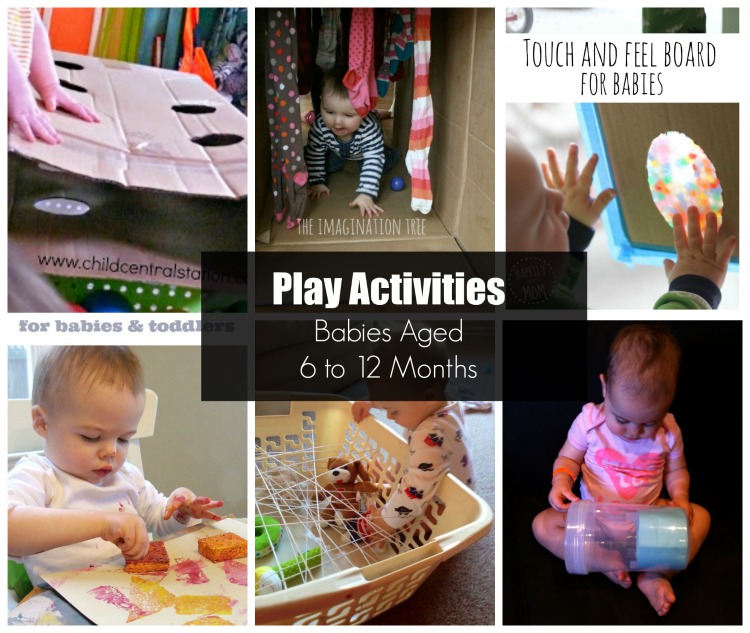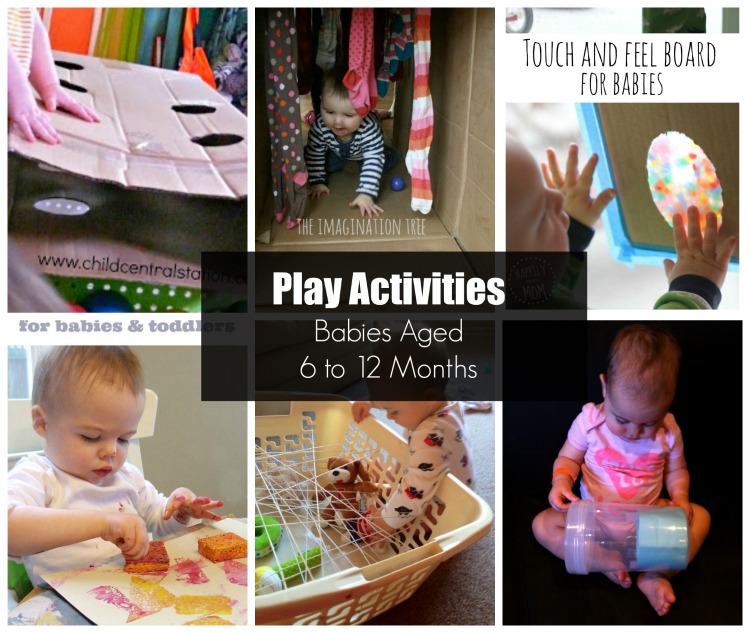 If your baby is ready to sit up, this Spiders Web Discovery Basket will keep them entertained as they try to work out how to retrieve little toys or baby safe objects placed underneath the web. You will need a spare washing basket and some wool or similar thick string and tie across each side of the basket to create the web. Ensure each end is double knotted on the basket to ensure no loose threads.
Now you see it and now you don't! Babies love disappearing objects and this little toy will pique their interest. It's so easy to make. Use a clear canister container and place a piece of paper around the bottom of the container and then insert a pompom. A very clever idea from Laughing Kids Learn.
This activity may suit older babies, but even if your babe is unable to stand, they will be able to do this activity sitting down facing a wall. This play Velcro and pompom activity helps babies with their motor skills. Quite simply stick a piece of Velcro (or double sided tape) to a wall and place a series of balls on the Velcro. Baby will reach for the balls and hopefully place them back onto the Velcro. Make sure the pompoms are large and not small to ensure it doesn't become a choking hazard.
If you baby loves to crawl, they will love this sensory tunnel made out of a cardboard box. Punch holes into the top of the box and knot odd socks so they can dangle down through the tunnel, tickling your baby as they crawl through. Lots of fun and hopefully all that crawling and laughing will help them have a good day nap!
Make as sensory board using a piece of cardboard. Babies love to feel different sensations and this board makes for a wonderful sensory activity. For ideas of textures, head to Happily Ever Mom. Think pipe cleaners, aluminum and felt for textures.
Who knew a muffin tray could make a great play activity for babies? You may need to purchase different balls for this activity, but once it's set up your baby will have fun placing palls into the muffin holes and retrieving them out again.
This activity will be messy and may be best suited for babies nearing 12 months. Cut up sponges so that your baby can paint at their high chair. Ensure you use non-toxic, water soluble paint. This activity is best with mum sitting next to baby and showing him/her how to create colour on a page.
What is your favourite play activity with your 6 to 12 month old?