A Baby Shower for a Cause
A baby shower is a doting and memorable experience for a mum-to-be. The function gives family and friends the opportunity to spoil the new baby and help the expectant mum prepare for her new arrival.
But what happens with the second baby? Are baby shower's still given? Or are they only given if the baby is the opposite sex to the first one?
Subsequent baby showers or baby sprinkles have become a popular tradition for expectant mothers. Yet while they don't often require as many items – as most are acquired when they had their first child, some mums have opted to hold a different 'get-together' to raise awareness and funds for a cause.
Ali did just that with her second baby shower. While pregnant with her second child, the expectant mum didn't need any more baby gear and she didn't really want another baby shower. Instead, the mum chose to give back by asking family and friends to donate to Birthing Kit Foundation and she held an Assembly Day where kits were put together for women in developing communities.
Birthing Kit Foundation raise money to send a $3 Birthing Kit to women living in remote and vulnerable communities. The kit is small enough to fit into a handbag and has 6 essential items to help mum give birth. In the kit are a birthing sheet, a pair of gloves, a little piece of soap, gauze, string and a scalpel blade.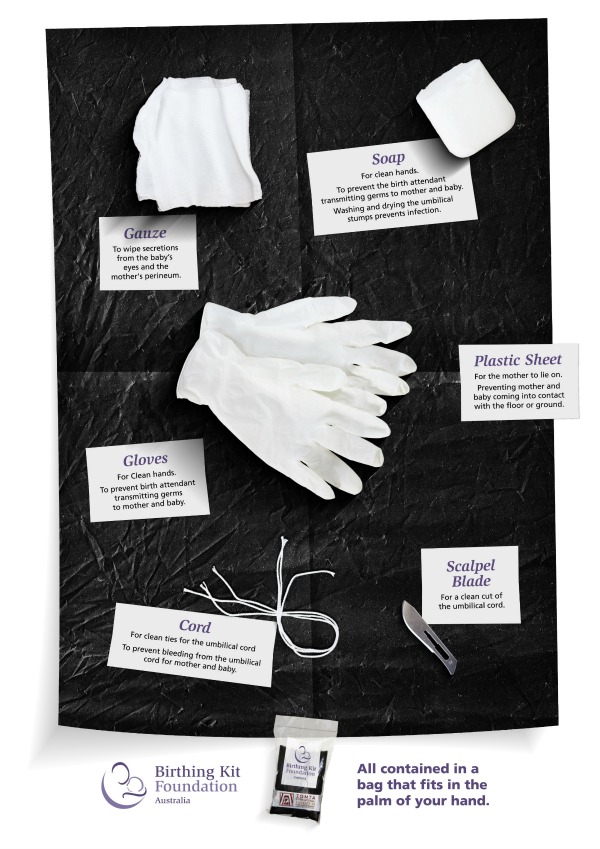 These kits offer mums in the developing world essential items to help them give birth. It's estimated 300,000 women and 3.3 million newborns still die each year, from complications relating to childbirth or pregnancy. Birthing Kit Foundation is committed to giving pregnant women in developing countries a better birth outcome through the donation of their kits.
As a result of the heart behind Birthing Kit Foundation (Australia), many expectant couples are having Assembly Days, where instead of holding a traditional baby shower, guests are asked to donate to the Birthing Kit Foundation and assemble the birth packs so they are ready to be sent overseas.
Ali shares her experience holding an Assembly Day with family and friends. The experience was meaningful and the work will make a difference to the expectant women overseas.
If you're interested in holding your own Assembly Party instead of a Baby Shower, head to Birthing Kit Foundation to find out more.
Your support can help the foundation in a really positive and unique way.