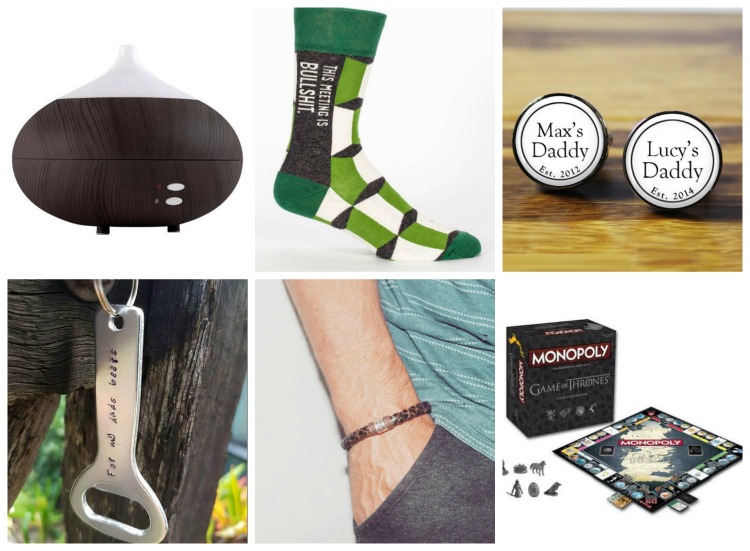 Father's Day Gift Ideas For The Dad Who Has Everything
Father's Day is less than a month away, and we are helping you with some ideas to prepare a gift for the father of your children. Or the father figure in their life.
It's a right of passage for dad's to receive a cheesy, yet thoughtful gift on their special day.
Families will celebrate Father's Day lavishly or with a simple celebration and handmade gifts.
There is no right or wrong way to celebrate Father's Day.
But if you're busy juggling all the things, and the father figure in your children's life has all the things or will buy what they want, when they need it, this list of Father's Day gifts is for you.
Father's Day Gift Ideas for 2017
1. Socks. Unoriginal, I know, but I reckon Dad will like wearing these socks to work.
2. For the dad that loves Game of Thrones and board games, this would make the perfect gift.
3. For the dad that likes his essential oils. This diffuser can be used in his office or in the garage while he works.
4. For the beer loving dad. This beer opener can be personalized by the kids too.
5. For the dad that spends too much time on the toilet…
6. Dad will love wearing these cufflinks to work.
7. This gorgeous merino wool scarf with keep dad's neck warm. 8. For the dad that likes to wear his kids birth dates on his sleeve.
Disclosure: There are affiliate links on this post. Should you choose to purchase an item, we will receive a small commission at no extra cost to you.